News
Wild Horse DNA Report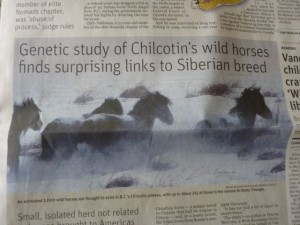 Wild Horse DNA Report: In early January,
"A Preliminary Genetic Study of the Wild Horse in the Brittany Triangle"
was released. This report, prepared for the Xeni Gwet'in First Nations, FONV (co-funders of the report) and the Valhalla Wilderness Society, was co-authored by Texas A&M's authority on horse genetics, Dr. Gus Cothran, and B.C. biologist, Wayne McCrory. While this research on the genetics of the wild horses of the Brittany Triangle took place over a number of years and involved both wild horse hair samples and blood samples, "The results pose more questions than they answer." (Wayne McCrory).
While it was initially assumed that these horses would show a strong link to the Spanish Colonial horse, the results from samples surveyed show no conclusive Spanish ancestry (in spite of the fact that when Simon Fraser saw the Tsilhqot'in people with horses in 1808, that sighting fit with the spread of the Spanish Colonial horse throughout North America). This may be due to the introduction of newer blood lines though the evidence is that this population of horses has been isolated for a considerable period of time and, "It has not had a lot of input in recent times." (Dr. Cothran).
What the research does show is a pre-dominance of the Canadian Horse. This breed was used for transportation in the late 19th and early 20th century. An intriguing find is the presence of genetic evidence of the Yakut horse, a breed from Siberia.
Much more genetic and historic research remains to be done. In the meantime, it is important to protect these 150-215 wild horses, likely the most remote of any horse bands in Canada.
Read the whole report
HERE
.
See the Vancouver Sun article by Larry Pynn:
"Genetic Study of Chilcotin's Wild Horses".
Posted by: Admin. Wednesday Feb 11, 2015 12:58
Categories: Wild Horses | Tags: DNA, genetics, Research, Xeni Gwet'in