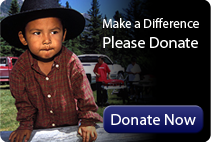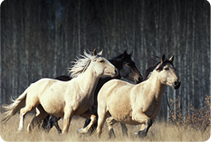 "Yes we can - for the good of all people and the world - we must protect our waters - our most precious resource on earth -

Keep that beautiful picture in your heart, mind and soul
Keep the land, water, animals and future generations alive in your heart, mind and soul
Keep it above the rest, above the negative business -
Thank you all for keeping it above all else - see it, believe it and we will achieve it! "
(Past Chief Marilyn Baptiste)
Friends of the Nemaiah Valley
This is a land of great mountains and pristine lakes, of wild rivers and remote forests, of grizzlies and black bears, wolves and wild horses, of moose, deer, fur-bearers, fresh water fish and wild salmon.
It is also a land constantly under threat from inappropriate and destructive industrial development.
As a bulwark against these threats, FONV works to support and strengthen a rich First Nations culture that has lived sustainably within this ecosystem since time before memory. This culture has many of the elements that can help direct the larger, global society toward a path of sustainability and away from a path that threatens global survival. We encourage and support these positive elements through our educational and other initiatives in partnership with the Tsilhqot'in people of Xeni.
Our work is informed by the understanding that healthy societies and economies can develop and thrive only within healthy environments.
To be on our email list for News and Events just send us an email.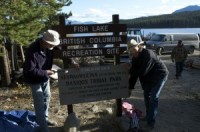 "Given existing circumstances of aboriginal rights and title for part of the study area, a Tribal Park designation by the Xeni Gwet'in and Yunesit'in should be considered as a further declaration of First Nations protectio, reinforcing the 1989 Aboriginal Presereve declaration and the ...
Posted by Admin. Tuesday Oct 28, 2014 13:16
Categories: Tribal Park | Tags: Dasiqox, Research, Tsilhqot'in, Xeni Gwet'in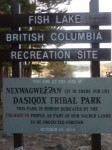 Saturday, October 4th was another extraordinary day for the Tsilhqot'in people who have already been rewarded this year with two major victories after many years of struggle: the rejection again by the federal government of the Prosperity Mine project at Fish Lake (Teztan ...
Posted by Admin Tuesday Oct 28, 2014 11:47
Categories: Tribal Park | Tags: Dasiqox, Fish Lake, rights and title, Taseko, Teztan Biny, Tsilhqot'in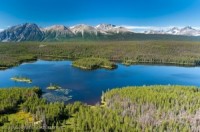 Sept. 10, 2014. The Tsilhqot'in National Government announces the creation of a new Tribal Park for B.C. This is a historic development in the process of protecting Tsilhqot'in lands which we at FONV have dedicated ourselves to for the past fifteen years. This is a dream ...
Posted by Admin. Friday Sep 12, 2014 11:33
Categories: Event | Tags: Dasiqox, Tsilhqot'in